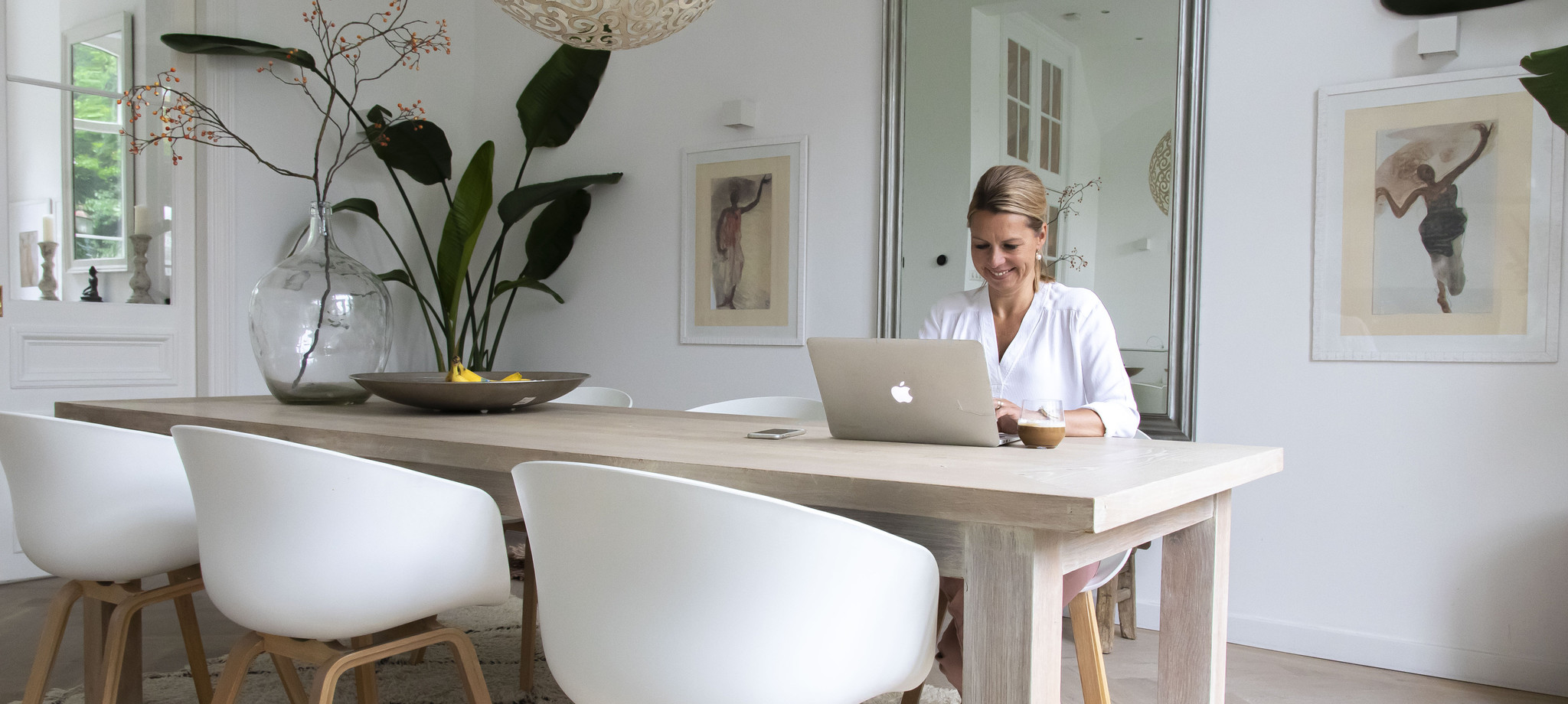 YOUR HOME SHOULD TELL THE STORY OF WHO YOU ARE,
AND BE A COLLECTION OF WHAT YOU LOVE.
- NATE BERKUS -
Our philosophy.
The driving force behind SIMPLY PURE is our passion for interior decoration, styling & design, traveling and different cultures. We have made from our passion a profession.
Simply Pure is a contemporary interior brand uniting an online interior boutique and styling, design & sourcing services under one roof. Our signature is inspired by nature, travel, craftsmanship, heritage as well as Scandinavian purity. It can be best described by following attributes:
Natural colors & materials 
Artisanal craftsmanship & heritage from around the world
Scandinavian simplicity with a pure & calming Look & feel
All these elements are united in unique, timeless and same time stylish designs for people and brands.
With our products and services we aim to beautify any kind of interior or exterior. Our passion is to inspire and transform a space to a peaceful "feel good" place bringing a sense of balance, well being and tranquility. With such a place people & brands might identify, feel comfortable in and can find their ultimate relaxation from the hustle and bustle of daily life.
Like Nate Beskus we believe, that an interior should be a collection oft the things you love and tell the story of who you are. Therefore we think that interiors as well as exteriors as their extension should reflect the personality of the people or brands using it and should be a collection of memories.
This is our philosophy.
Last but not least we try to act as eco-friendly, socially & sustainably responsible as possible.
Our story.
Simply Pure was founded in 2014 by Britta von Wedel in the Netherlands. During that time Britta worked for more than 10 years as a consultant for trade show and conference organizers. Just before her 40th birthday she took the plunge and switched careers. "It's part of who I am to look for something new. It's important to me that life doesn't become boring," says Britta. 
She decided to follow her passion for traveling, interior and décor and and was willing to unite all that in a new interior décor brand as creative outlet for her. So she stops with consultancy and starts importing beautiful hand carved wall panels from Thailand where she has been already many times for traveling.
She started with only one single product in different variations, rather than investing in an entire collection of products. That one product, which you could say has become simply pure's signature piece, is the decorative carved sustainable teak wall panel, handcrafted in Thailand. You find it in most of her interior designs.
Britta has several in her own house, each with a slightly different design. 
"Simply Pure is about authentic, quality pieces, crafted by local artists and artisans, using local materials and traditions, that look perfectly at home in stylish European homes."
In a later stadium rugs & home textile items from Morocco, different wood carvings from Indonesia and after a couple of years also accent furniture are added to the collection of simply pure.
The present.
Now trend spotting and the constant search fort the new, the unique and the original are the driving forces of the Interior decor boutique.
In addition tot that we hope to inspire and create trends by being very active on our social media canals serving with in the mean time currently more than 80.000 followers mainly from Holland, Belgium, Germany and France. Let us also inspire you and follow us here: Facebook or Instagram .
As we received more and more requests from customers willing to transform their spaces to Feel good places in Simply Pure style, we are now also offering styling & design services for people and brands.
As not everyone has the budget or the will to engage an interior stylist, we additionally offer workshops in order to inspire and helping them restyling their homes.
Last but not least Simply Pure is also socially engaged.
Since 2015 Britta is collaborating with the charity organization Warm Heart Worldwide. This organization offers a home to children in need and helps women to perform a craft to generate income. To support this cause Britta designs bracelets, which are made by the locals. She uses traditional techniques, which come back in wonderful contemporary designs. Of course Simply Pure sells these bracelets on this website. The earnings all go to Warm Heart Worldwide.