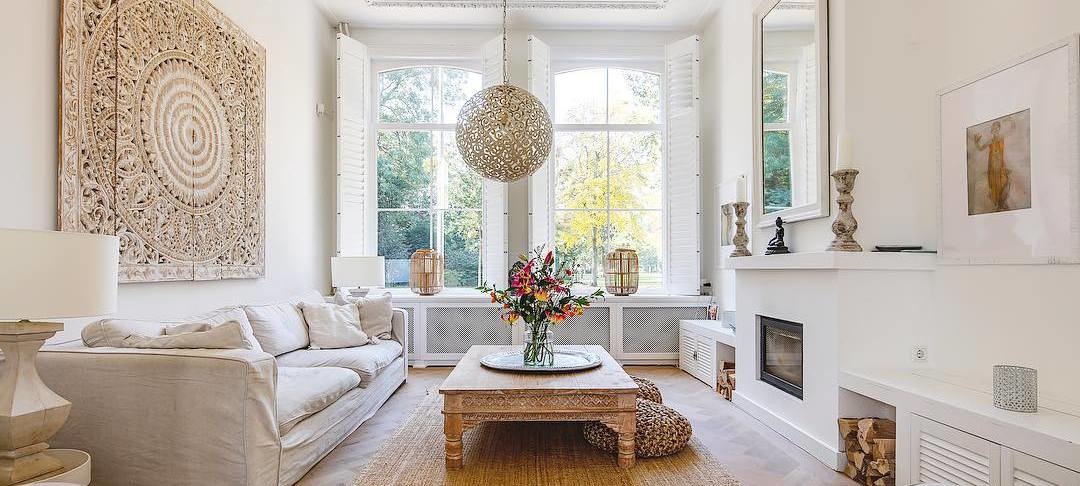 YOUR HOME SHOULD TELL THE STORY OF WHO YOU ARE,
AND BE A COLLECTION OF WHAT YOU LOVE.
- NATE BERKUS, interior designer -
Our Philosophy
The driving force behind SIMPLY PURE is our passion for interior decoration and design as well as travel and different cultures. From that passion, we have built a business to serve like-minded clients.
Simply Pure is an interior brand comprised of a wide range of design services and an online boutique of specially sourced fine handicrafts. Our signature style is inspired by nature, travel, craftsmanship and Scandinavian minimalism. We strive to create spaces which are harmonious, tranquil and comfortable that, at the same time, are a reflection of the client's lives and needs. Last but not least we try to act as eco-friendly, socially & sustainably responsible as possible.
Our Story
Simply Pure was founded in 2014 by German-born Britta von Wedel. Britta lives with her Dutch partner and two teenagers in historic Haarlem, just outside of Amsterdam. She previously worked for over a decade as a consultant for trade show and conference organizers. Just before her 40th birthday she took the plunge and switched careers.  
She decided to follow her passions for interior design and travel. The first step was to create the Simply Pure brand to reflect her design style. Next she began importing beautiful hand carved teak wall panels from northern Thailand, one of her main sourcing locations.
Britta decided to start by working a single product in multiple variations rather than tackling an entire collection of different products. The wall carvings have since become Simply Pure's signature piece and can be found in most of her interior designs. Several are found in her own house in Haarlem which serves as her design laboratory and where her workshops are held.
Later she added rugs and home furnishings from Morocco, other wood carvings from Indonesia, as well as accent pieces from various other locations to her growing collection. She emphasizes that all the handicrafts sourced by Simply Pure, although made by local artisans using traditional materials and workmanship, fit perfectly in stylish Western homes and commercial premises.
Britta also found time in her busy schedule to attain a diploma from the prestigious NIA Academy of interior design with modules in interior design, styling and staging.
The Present
Britta spends a lot of time following the latest trends and constantly searching for the new, the unique and the original to grow the online boutique offerings. She also hopes to inspire trends herself through active participation on social media channels. Simply Pure currently has over 80.000 followers on its Facebook or Instagram accounts primarily from Holland, Belgium, Germany and France. Of course we would love to widen our reach and attract followers from the rest of the world who like our style. 
The design studio grew initially from social media followers and word of mouth recommendations as people learned about the Simply Pure style and wanted it for their spaces. As not everyone has the budget or time to work with an interior designer, we also came up with the workshops so that people can restyle their spaces on their own.
Last but not least, Simply Pure is socially engaged. Since 2015, Britta has worked with Warm Heart Worldwide, a grassroots NGO located in rural northern Thailand. Warm Heart runs many projects, including a Children's Home for hill tribe children who cannot otherwise attend school in their remote villages and women's handicraft co-ops. Every year Britta designs a collection of attractive beaded bracelets that appeal to an international clientele. The bracelets can be made by the skilled bracelet makers at home while they tend to their other family responsibilities and farming work. Some of the bracelets are sold on this website and all proceeds go to Warm Heart Worldwide.